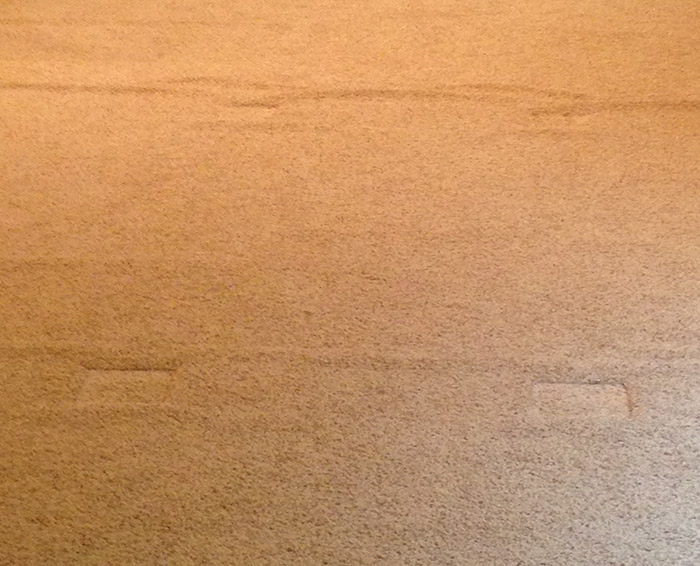 When heavy furniture sits on top of carpet for long periods of time, it crushes the fibers where it rests. This results in divots or dents in your carpet where the furniture once was. You may have noticed this cosmetic issue if you have ever rearranged your furniture. Not to worry, though. Carpet dents can be easily removed, and we are going to share how to do it.
Remove Carpet Dents with a Blow Dryer
If you want to try and remove carpet dents on your own, we recommend enlisting the help of a blow dryer. The heat from the blow dryer is enough to raise the fibers from the bottom of the carpet and force them back into place. The following is a step-by-step guide to using your blow dryer to remove carpet dents.
1. Spritz the crushed area with enough water to saturate the carpet fibers
First, mist the crushed fibers with water. A spray bottle is great for this. The carpet fibers will absorb the water and become more malleable.
2. Then, use the handheld appliance to blow-dry the damp area
The heat from the blow dryer should be on low and will help raise the fibers from the bottom of the carpet and force them back into place. Work around the dent in circular motions.
Blow-dry the area until the fibers are loosened and in the correct position. You can alter the angle of your blow dryer to try and change the direction of the fibers. It will help you get them back into place more quickly.
An iron with steam settings is also a great tool for this purpose. To use an iron, place a towel over the dented area to avoid burning the fibers. Then, steam the affected area. And finally, move the iron in circular motions over the covered carpet. This should produce the same results as the blow dryer method.
3. As the carpet dries, fluff up the fibers with your fingers
As the fibers begin to dry, they will start to fluff up. It will make them easier to lift and manipulate into their new positions. Once dry, vacuum the area to get the fibers back into their fluffiest state.
Sometimes furniture like heavy chairs and sofas can leave behind more than just crushed carpet. Heavy furniture in addition to regular scooting or dragging against carpets often results ​ in holes in the piles. When this happens, give your friends at Nip and Tuck Carpet Repair a call. We can repair your carpet for a fraction of the cost of a full replacement.
By Nip Tuck Carpet Repair 5-11-2022